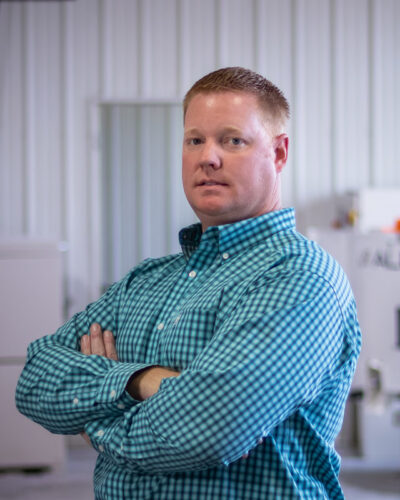 Mark Jasperson is new to the ALMCO/Panels Plus team and started his role as Manufacturing Manager in August 2021. In this position, Mark works closely with multiple business units within Innovance, including Panels Plus and ALMCO. Some of his duties include identifying and implementing manufacturing methodologies targeted at reducing lead time, material handling, and cost. He also works closely with the sales and engineering teams to establish and communicate a more defined standard process for managing projects. Another part of his role is identifying what manufacturing operations should be performed at which facility (ALMCO, Panels Plus, Lou-Rich) to maximize efficiency, work center utilization, absorbed labor cost, and part quality while reducing cost, lead time, and scrap for each part number.
Mark has a BBA in Management Information Systems and Minors in Psychology, Applied Mathematics, and Computer Science from the University of MN-Duluth. He also acquired his Lean Six Sigma Black Belt certification in 2013.
When asked what working for an employee-owned company means to him, he replied, "I believe that employee-owned companies produce the highest quality products and services while offering the safest and most family-oriented work environments of all businesses operating in the US today. Working for an employee-owned company is important to me because it means that leadership will always be committed to employee-owners, community, and customers above any outside shareholders." After working with ALMCO/Panels Plus our "Customers should feel confident that they have purchased the best line of equipment on the market today and know that the ALMCO/Panels Plus employee-owners will be here to provide any support they may need to ensure that their equipment runs smoothly long into the future."
Mark grew up in Albert Lea on farmstead just outside of town. After college he lived in the Twin Cities for 10 years and then moved to Nebraska, where he worked at a high-pressure aluminum die casting foundry and machining company. He recently moved back to his hometown of Albert Lea to be closer to family and to take over his family farmstead. Mark's hobbies include fishing, shooting, upland game hunting, golfing, biking, and playing tennis. "For someone like me who's number one passion is fishing, no state can begin to compare to Minnesota with all its lakes and rivers. I am thrilled to be back home and have never been happier," Mark stated.
Welcome to the ALMCO/Panels Plus Team, Mark!