WIDE PLATE FRAMING STATION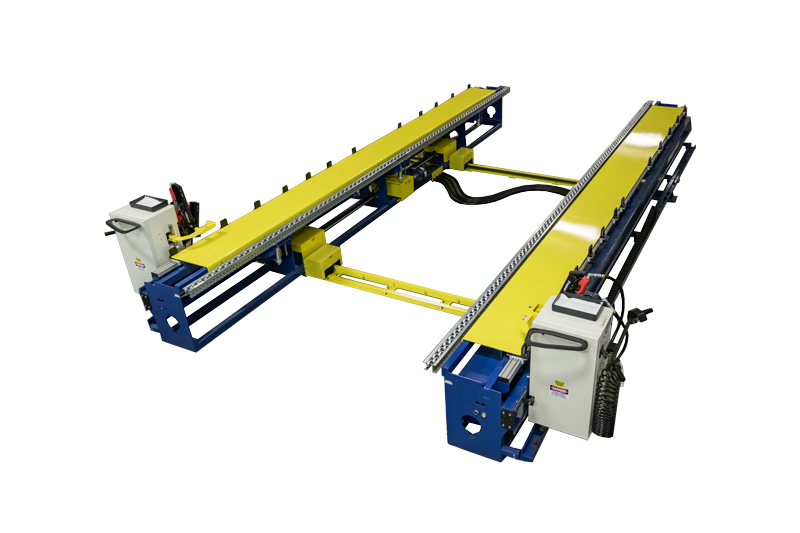 Quality Panels, Every Time
The Wide Plate Framing Station is designed for prefabricated construction businesses using a laser projection system, or a plate-marking saw. It consists of a framing table with wide plates for laser projection. The framing table holds the plates, subcomponents, and studs squarely in place for fastening to ensure quality panels every time.
Available with or without indexing tool carriages, this model can be stand-alone or integrated into a production line. Various sizes and configurations are available.
Benefits
Compatible with a laser projection system and plate-marking saws
Larger surface for plate and stud placement
Ergonomic working height
Wide Plate Framing Station
The Wide Plate Framing Station is designed for off site, prefabricated construction manufacturers that are equipped with a laser projection system, or for those using a plate-marking saw. Crafted to flawlessly integrate with either of these systems, this model features projection plates in place of stud locators. The projection plates provide a reference for laser projection and offer a larger surface for stud and plate placement. This model is ideal for companies that manufacture wood wall panels, such as off-site building manufacturers, manufactured home builders, and modular builders.
The Panels Plus wall panel systems are more ergonomic than traditional construction methods and are developed at an ergonomic working height. This eliminates the need to continually kneel or hunch over to build wall panels, improving employee health and safety.
How It Works
The Wide Plate Framing Station consists of a framing table with various features including a squaring edge, projection plates, pop-up rollers, footswitch, push-button controls, stationary side, and manually telescoping side.
The telescoping side is adjusted in and out to set the panel height. The studs and plates are then manually loaded into the framing table and positioned using an overhead laser projection system (not included) or marked plates. The wall panel is clamped into place by stepping on the footswitch on the load end of the table or by push-button controls on the exit end on the framing table. This ensures the wood wall panel is square before fastening.
Depending on the model purchased, the top and bottom plates are then fastened to the studs by using the Panels Plus indexing tool carriage, or by hand nailing.
When the wood wall panel is framed, it is easily moved down the production line using the pop-up conveyors that are raised using a second set of push-button controls. Power conveyors are an optional upgrade to move wall panels hands-free between workstations.
Make Hand Nailing A Process of the Past
Framing Stations come equipped with indexing tool carriages and can also be purchased without. Indexing tool carriages eliminate the need to fasten wall panels by hand and allow operators to work at a safer ergonomic height.
When equipped, one tool carriage is attached to each side of the framing table on a rolling V-track. This semi-automated system fastens the top and bottom plates to the studs with the press of a single fire button located on the handlebar. The indexing tool carriages offer precise fastener placement taking the tools out of the operators' hands – reducing safety issues.
When manufacturing wall panels by hand, fasteners can be spaced incorrectly or more fasteners can be used than what is required. With the Panels Plus indexing tool carriages, nail spacing is preprogrammed based on your company's specifications – leading to exceptional panel consistency.
Wide Plate Framing Station Specs
Electrical
• 120Vac/60Hz/15amp
Air
• 30 CFM @ 90-120psig
Standard Machine Length and Width
• 22′ L x 16'W
• Various sizes and configurations are available
Wall Panel Size
• 4' to 12'4" Tall Wall Height
• Up to 16' Long
• Various table sizes and configurations are available
Compatible Materials
• Lumber Between 2×3 and 2×10
• Dimensional and Engineered Lumber
Working Height
• 33″ Plate Height
Framing Table Construction
• Welded steel construction
Telescoping Side
• Adjusted in and out to set panel height
Projection Plates
• Provide a surface for laser projection
• Offers a larger surface for stud and plate placement
Squaring Edge
• Ensures Squareness of wall panels
Footswitch
• Located at the load end of the framing table
• Clamps/unclamps the framing table
Push-Button Controls (2 Sets)
• Located at exit and load end of the framing table
• Set 1 – Clamps/unclamps the framing table (on exit end)
• Set 2 – Pops up roller conveyors (on both ends of the table)
Pop-Up Conveyors
• Extend the entire length of the table
• Raised by push-button controls on either end of the table
• Allows easy panel movement down the production Line
Indexing Tool Carriages (2) – If equipped
• Semi-automated
• Located on the stationary side & telescoping side
• Mounted on V-rail
• Handlebars for easy operation
• Fires nails into plates via the fire button on the handlebar
• Offers precise fastener placement