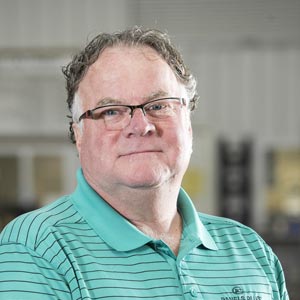 As we venture further into the second quarter of this year, we have some important updates to share with you. After almost 17 years of dedicated service, Tim Kaasa, Panels Plus Lead Sales Representative will be retiring at the end of this year. We would like to take this opportunity to express our sincere appreciation for Tim's outstanding work and congratulate him on his upcoming retirement.
Tim Kaasa has been an invaluable member of the Panels Plus family since the fall of 2005. Over the years, he has grown into the role of the Lead Sales Representative, serving as a passionate advocate for Panels Plus equipment and his customers. Tim's enthusiasm for his job shines through in his interactions with our customers. He has forged strong relationships, earning our customer's trust and loyalty. Tim's dedication is evident in his commitment to guiding customers through the purchase process with fairness and honesty, providing them with continuous support before and after the sale. We are grateful for his contributions and the lasting impact he has made on our company.
"It has been a pleasure working for Panels Plus these past 17 years, I am grateful for the opportunity to serve our customers, and for the relationships I've built over the years. As I enter retirement, I am confident that our customers will be in excellent hands with Paul Schmitt. I am excited for this new chapter in my life and look forward to enjoying my retirement and spending time with my family and grandchildren," said Tim.
While bidding farewell to Tim is undoubtedly a bittersweet moment for us, we are delighted to introduce Paul Schmitt as the new main contact for our customers. Paul joined the Panels Plus team in October 2022 as the Regional Sales Manager. Paul has been diligently preparing for this transition, and we have full confidence in his ability to seamlessly take over Tim's responsibilities.
We encourage our customers to contact Paul for all their inquiries, concerns, or sales-related needs. His goal is to continue providing outstanding service and ensure a seamless transition for everyone. With Paul's expertise and enthusiasm, we are confident that Panels Plus will continue to thrive and exceed expectations. You can reach Paul by email at pschmitt@panplus.com or by phone at 507-377-4448.
On behalf of the entire Panels Plus team, we extend our deepest appreciation to Tim Kaasa for his unwavering dedication and contributions to our company. He will be sincerely missed. We also extend another warm welcome to Paul Schmitt and look forward to the continued success and growth of Panels Plus.
Thank you for your ongoing support and trust in Panels Plus. We are excited about the future and the opportunities that lie ahead.