Building wall and floor panels by hand and working off the ground are becoming a practice of the past, especially in the modular home industry.
If you are looking for a way to increase consistency, save costs, and lower the risk of employee injury you're in the right place. Panels Plus also offers complete customization, perfect for your large-length modular home projects.
Benefit 1: Greater Consistency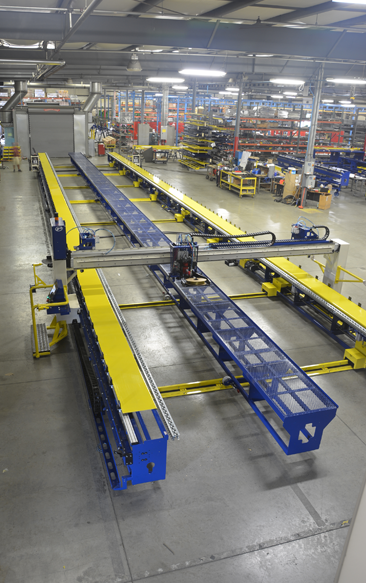 With the Panels Plus framing, squaring, and sheathing stations, you get consistently square wall and floor panels every time. This isn't always the case when you have numerous employees building products by hand. Even when employees go through the same training process, there can be significant inconsistency with your build over time.
The Panels Plus Wood Wall Framing Station takes the error out of building. The Framing Station has stud locators at 16'' and 24'', which makes it easy to maintain consistent spacing. After the wooden studs and plates are manually loaded into the table, the wall is then clamped in place to ensure the panel is square before fastening.
Our Wood Wall Squaring Station also helps to achieve consistently square panels. It is specifically designed to hold wall panels securely and squarely in place while sheathing is secured.
Panels Plus is a perfect solution to optimize your wall and floor panel manufacturing. Any of our products can be fully customized to fit your modular home building needs.
Benefit 2: Cost-Savings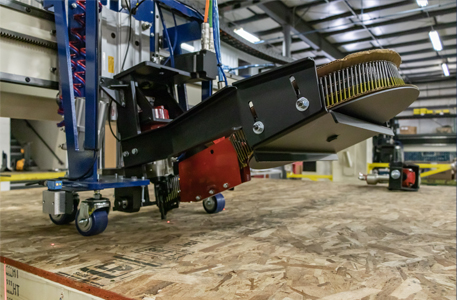 When manufacturing wall and floor panels by hand, there is bound to be some user error. Fasteners can be placed incorrectly or more fasteners can be used than what is architecturally needed. The use of extra fasteners can quickly turn into an unforeseen additional cost, eating away at profit margins. This is especially true in the modular home industry, where businesses construct high quantity, large-scale projects.
Panels Plus systems optimize fastener placement, so you are using the precise number of fasteners for the job. Our Wood Wall Sheathing Station includes a Touchscreen Operating System (TOS) where you can input the predetermined number of fasteners for your specific project into the system. The TOS has nine presets for nail spacing and nine presets for wall height spacing. This ensures your fasteners are spaced correctly and you are always using the correct number of fasteners; saving time and money.
Benefit 3: More Ergonomic
Keeping workers healthy and decreasing the risk of injury is of high importance to any industry. This is especially true in the modular home industry where many businesses are still building wall and floor panels by hand and are working off the ground. Due to the labor-intensive nature of the industry, it is important to be mindful of ergonomics in the workplace.
The Panel Plus wall panel and floor cassette systems are designed to be much more ergonomic than traditional construction methods and are developed at a working height of 33'' tall. This eliminates the need to continually kneel and hunch over to build panels.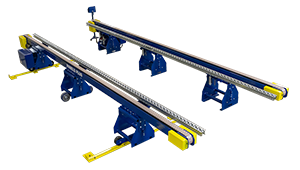 Our wall panel and floor cassette systems utilize roller conveyors so employees can easily move and transfer materials from one machine to another. Roller conveyors can be sold individually and are available in multiple standard and customizable lengths for all of your modular home building needs.
Panels Plus carries a variety of products that are ergonomically designed and help to reduce the risk of employee injury. Some of these products are listed below.
Additional Products
• Subcomponent Tables
• Panel Lift
• Swing Gates
Additional Features
• Push-Button Controls
• Joystick Operation
• Foot Switch Controls