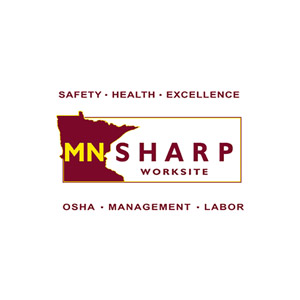 Panels Plus recently finished the two-day MNSHARP recertification at the North Plant in Albert Lea, where all the Panels Plus equipment is manufactured. MNSHARP is a Minnesota Occupational Safety and Health Administration program that recognizes Minnesota companies that create safe and clean workplace conditions for employees according to all applicable OSHA standards. The goal is immediate and long-term prevention of job-related injuries and illnesses. Only 36 manufacturing companies in the state of Minnesota have achieved MNSHARP certification, and Innovance, the parent company to Panels Plus, has 4 of those 36. "The health and safety of our employee-owners is our highest priority and continuing with our MNSHARP certification helps us greatly with that goal," stated Innovance Safety & Environmental Coordinator, Ryan Martens.
The audit went very well with a minimal number of findings from the OSHA consultants. Thanks to our maintenance department, they were able to make the needed corrections right on the spot.
Due to the leadership of Panels Plus Supervisor Brett Doyle and Department Supervisor Andy Christensen, Panels Plus maintains a culture that is focused on safe work practices and is dedicated to the health of all workers.
Congratulations to Panels Plus and everyone that helped achieve MNSHARP Certification at the Panels Plus  facility!