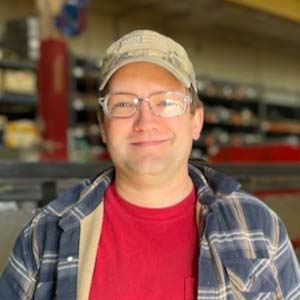 Ben Larson joined the Panels Plus team at the beginning of June 2022 as an Assembler. He has a bachelor's degree in Ag Ed from South Dakota State University and was previously a teacher. Ben will be the lead assembler for the Hornet Saw, a MiTek product that Panels Plus will now be manufacturing.
Ben helped build the first two units, which were part of a pilot program for building them in our new facility. Once production gets up and running, he will be assembling, testing, and disassembling, as well as teaching other employee-owners how to build the saws. Ben said he's "excited to start working on the Hornet Saws. The computers and automation make them a neat project to work on."
When asked what he enjoys most about his job, he responded, "Just seeing the products from start to finish and working on all the different pieces of the products."
Ben has been married to his wife for 16 years, and they are expecting their first child (a boy!) this year. In his free time, he enjoys anything related to outdoor recreation, hunting deer, and woodworking.
We're glad to have you as part of the Panels Plus Team, Ben!