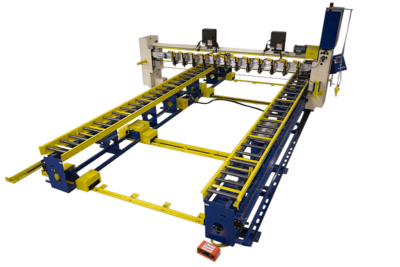 The Light Gauge Steel Sheathing Station is designed to screw sheathing to steel wall panels. The table will sheath 6'6'' to 12'' walls up to 16' long and handles wall thickness from 4'' to 8''. It is equipped with a squaring table and multitool steel sheathing bridge.
After the wall panel has been framed and squared, it is rolled into the squaring table via roller conveyors. The squaring table includes a squaring edge, horizontal rollers, footswitch, push-button controls, a stationary side, and a motorized telescoping side.
Once the wall panel is loaded, the telescoping side is guided by tracks on the floor to set the panel height. The wall panel is re-clamped against the squaring edge by stepping on the footswitch on the load end of the table or by push-button controls on the exit end of the squaring table. This holds the steel wall panel square during the sheathing process.
When the steel wall panel is sheathed, it is easily moved down the production line via the roller conveyors. Power conveyors are an optional upgrade to move wall panels hands-free between workstations.
Multitool Sheathing Bridge
The multitool sheathing bridge is equipped with a handheld control pendant that assists with moving the bridge to the next screw placement. There is also a hand crank wheel for fine-tune movement. The multitool sheathing bridge uses electric screw tools to screw sheathing to the steel wall panels at preset fastener spacing. The multitool sheathing bridge also has a laser indicator for bridge alignment and an auto-return feature.